Minas - Orlando & Patricia Haddad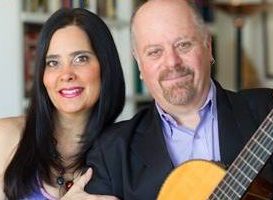 Orlando and Patricia enchant audiences with their magical and unique sound, artistry and warmth, where the poetry of their lives is heard in every note. Minas has performed and recorded extensively, building their reputation as one of the most sought-after Brazilian groups of its kind. Multi-talented as composers, vocalists and instrumentalists, and equally comfortable in Brazilian festive music and jazz, folk and classical genres, Minas' various performance styles have placed them in front of every kind of audience and venue.
Minas' educational programs have reached nearly one million youths in the form of primary and secondary school assemblies, residencies, and college/university teaching and clinics, promoting commonalities between Brazilian and American cultures.
Website: https://minasmusic.com/
---